Silver Lake over in the mitten of Michigan has opened up a portion of their dunes to fat bikes. This is a spot that we've visited for beach riding in the summer but this winter they've created a new fun opportunity to ride fat bikes on the frozen dunes. Check it out!
Beginning on December 15th the MDNR welcomes fat bikers for a dune takeover that will extend to March 15th. This new recreational season provides fat bikers an opportunity for winter and spring riding that is truly unique to our region.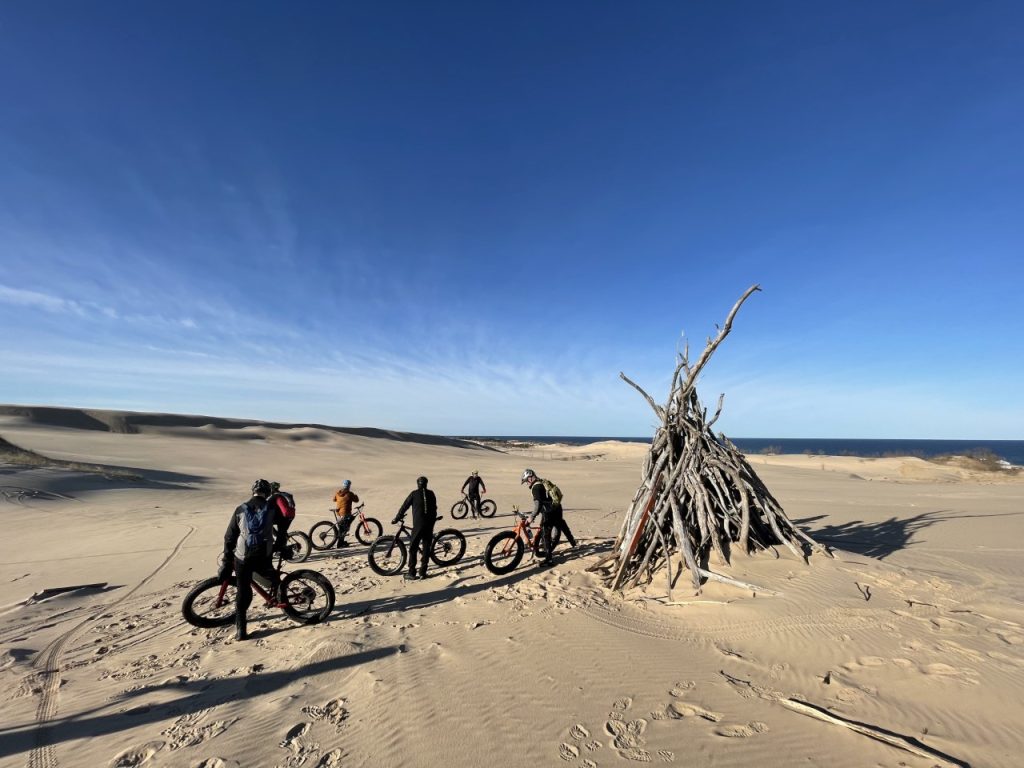 The Silver Lake Sand Dunes are the premier destination for ORV dune adventure from April 1st through October 31st, attracting more than 1 million visitors per year. Previously, bikes were not allowed in the park. With the creation of this new season, and a season for horseback riding during the month of November, it is the hope of Silver Lake State Park and the MDNR to create ever-expanding opportunities for users to enjoy the natural phenomenon of the dunes in all seasons of the year.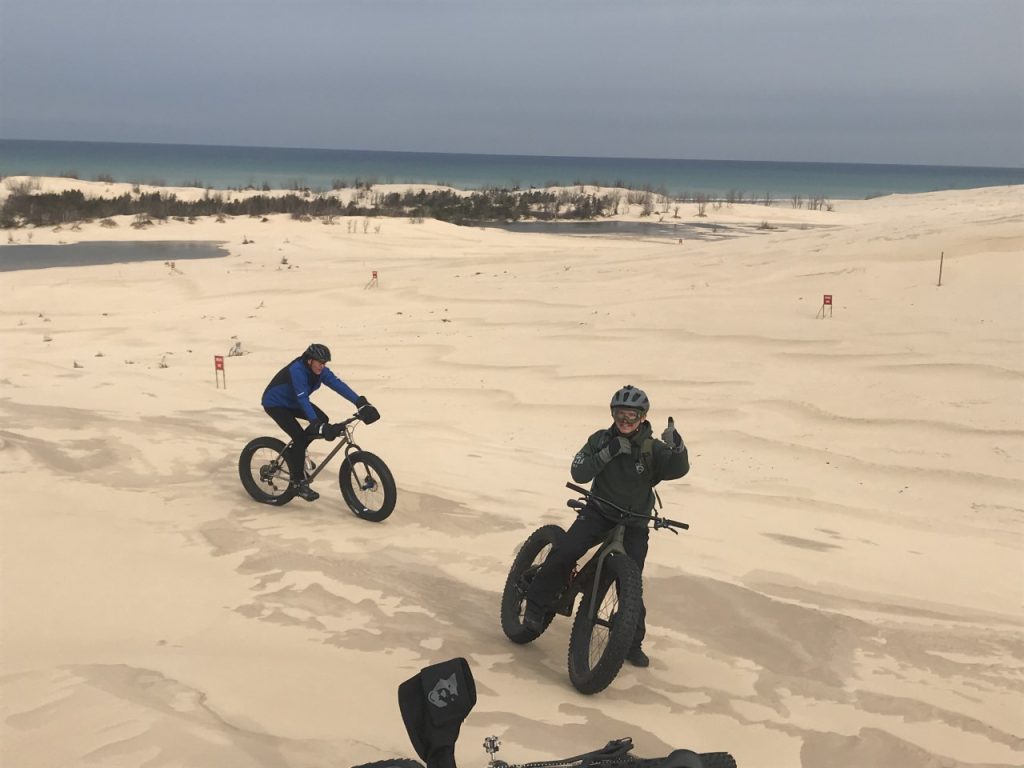 Fat Biking Season Details:
The ENTIRE dunes ARE NOT open for cycling activities, only the regularly designated 450-acre ORV scramble area is approved for these activities.
The pedestrian portion and the portion Mac Woods uses is closed to bike use and equestrian use.
Use of the state park pedestrian area parking lot for the bicycle riders to stage and enter the dunes using the down ramp of the ORV area.
A valid Recreation Passport is required on the motor vehicle if using the parking lot.
Vault toilets will be available for use.
Shoreline Cycling Club and Michigan's Edge Mountain Biking Association have worked for the past several years in cooperation with the Michigan Department of Natural Resources to create a pilot program for fat biking on the Silver Lake Sand Dunes. Because of the success in these initial trials, the Michigan DNR has designated this new fat biking season on the dunes.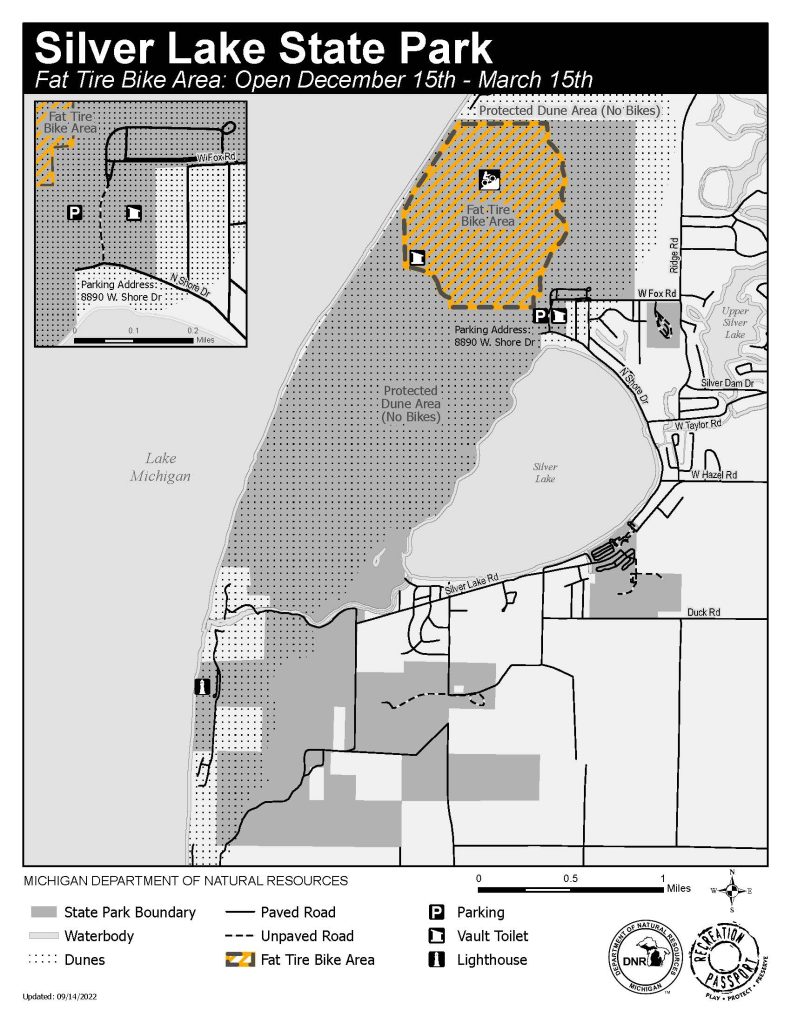 Winter Season Resources
Although some businesses close for the winter and early spring seasons, there are several places to stay and eat in the Silver Lake & Hart area while on your fat biking adventure. Those businesses are listed below. Be sure to check for seasonal hours before heading out.
Hotels:
Dunes Express Inn and Suites 2248 N Comfort Dr, Hart, (231)873-3456
Gateway Motel 3781 N. Oceana Dr., Hart, (231)873-2125
Restaurants Open in Winter Season:
BC Pizza 2327 N. Comfort Dr., Hart, MI 49420 (231-873-5555
Big Hart Brewing Company 4086 W Polk Rd, Hart (231)301-8226
Hart Pizza 105 E Main St, Hart, (231)873-4434
Kristi's Pour House 211 E Main St, Hart (231)873-2378
La Fiesta 12 S State Rd, (231)498-3202
La Probadita 19 S State St, Hart (231)873-4069
Open Hearth 2430 N 56th Ave, Mears (231)873-8800
Pink Elephant Diner 207 S. State St., Hart (231)873-9912
Fast Food:
McDonald's 4256 W Polk Rd, Hart (231)873-8786
Subway 2386 N Comfort Dr, Hart
Coffee Shops:
Lakeside Bagel & Smoothie Bar 39 S. State St., Hart (2310873-3566
Stella's Coffee House 213 E. main St., Hart (2310301-8028
Close by Provisions:
Duneland Off Road Center, right outside the entrance to the ORV area 1951 N 24th Ave, Mears (231)873-4047 https://www.dunelandoffroadcenter.com/ Located next to the ORV parking area, Duneland offers tire maintenance, goggles, gloves, clothing, bottled water, ice, soft drinks, and snacks.
Hospitals:
Minor injuries go to Mercy Lakeshore 72 S State St, Shelby, (231)861-2165
All other needs go to Mercy Health 1500 E Sherman Blvd, Muskegon (231)672-2000
Free Wifi:
Hart Public Library 415 S. State Street, Hart, public Wi-Fi available in the parking lot.
McDonald's 4256 W Polk Rd, Hart, public Wi-Fi available in the parking lot.
For more information visit – https://thinkdunes.com/