Sometime last winter, I started to wonder to myself…what is the ultimate titanium fat bike? So I started to do what I could to get acquainted with what was available. During the last six months, there have been some interesting new developments on the Ti Fat Bike front. The 27.5 wheel size is driving some of these new models as well as progressive mountain bike geometry. I did my best to get a ride on each of the bikes that made the list but I didn't get to ride them all. Here they are in alphabetical order
Do you like to ride drop bars? Well, Bearclaw Bikes has one of the only drop bar-specific fat bikes available. Ever since its release, I've threatened to show up at their secret lair and steal a ride in on one, and early this Spring, I did just that. I got to put two nice rides in on the Tomak. And not just any Tomak…I got to borrow Chet Bearclaw's Tomak! I wrote a story about the bike and my visit up to the UP. Chet's Towmak was set up with the best of the best components which included Sram's AXS wireless shifting. The other feature of Chet's bike that stood out was the HED carbon wheelset. It's a shame that the 65mm wide HED rims are no longer in production. The bike accelerated like a rocket and yet behaved admirably.
FEATURES
197x12mm thru-axle frame
150x15mm Blitzen 468 Axle to Crown carbon or Ti 150 fat fork
Fits up to 27.5 x 4.5 or 26 x 5 tires
3 triple boss mounts on the frame
Rack Mounts
Flat mount brake
Ultradistance Gravel Friendly Geometry (UGFG)
100mm BSA Standard Bottom Bracket
Internal cable routing
3AL-2.5V double-butted titanium frame
6AL-4V billet head tube, bb, dropouts, derailleur hanger, and chainstay plate
Bearclaw can build one of these bad boys with any number of custom build options. Those looking for a fat bike that is designed to run drop bars will not be disappointed. The Bearclaw Towmak lives up to its name.
The Corvus Magnus is the latest generation of fat bike development from the company that used to be called Fatback. Fatback and now Corvus has a lot of history with hand-building titanium fat bikes for their race team. The Magnus is the result of their 15 years of field testing and prototyping fat bikes in AK. The magnus was prototyped in steel right in Alaska. They designed the bike for 27.5 wheels with new school geometry. This allowed them to make the tweaks to address soft surface riding conditions that were distilled down to create the production version of the Ti Magnus that they're offering today.
I got to take the Magnus for a little ride around the expo area at Sea Otter. Back in early spring, I hadn't ridden very many progressive geometry fat-bikes. I still had some doubts about how it would affect the handling. My short test ride felt great. Since then, I've ridden hundreds of miles on two fat bikes with similar geometry and I'm a fan! Corvus calls the new Magnus their two-wheeled Unimog.
Mi amigo and bike-wrenching guitar wizard, Jeff Gillmore was one of the first to get a production Magnus. He's owned or ridden just about every generation of what's come out from Fatback/Corvus. Here's what he had to say about the New Corvus Magnus
I've been asking Greg Maytas for years to make an updated titanium bike , So as soon as he announced that he was making a limited run of the Magnus I made sure that I was on the list! From the very first ride, I notice that everything was different than my other fatback's Seriously I've never had a bike where I was sitting in the "pocket of the bike "! The 27.5 wheels instantly felt like an old friend! Modern geometry is crazy but in a really good way. Huzzah! to Greg for always looking outside the box!

Jeff Gilmore
We also asked Kevin Breitenbach for his thoughts on the Magnus. Kevin is a past ITI and Arrowhead 135 winner. He rode a Corvus Magnus in this year's Iditirod Trail Invitational to McGrath. This is what Kevin Shared.
It's nimble and gobbles up terrain when you're out for short rip on the single track. Wanna get loaded? Pack on the gear and it's stable and predictable all day long. The first Time I rode the Corvus Magnus it felt so different than any other fatbike I had ever ridden but I was immediately at home. After a few years hiatus on the Iditarod I was fortunate to race to McGrath on the Magnus. There's a lot of things that can cause fatigued that race but the Magnus was not one of them. Your body can really feel like a pile of garbage after that race. But I still felt somewhat fresh at the end. I think a lot of that was the Magnus. First few times I rode it. I remember thinking you step into this bike more than you step over it. It's really everything you would want out of a titanium bike and in my opinion it's everything a Fatbike should be. Fun, compliant, stable and comfortable as hell. One more thing. Oatley told me like 10 or 11 years ago. It's ususllly not the person that can ride fastest in the ITI. It's the person that can ride the slowest that will win. Magnus excels at staying stable when trail goes to shit and your world turns slow. I'm a person that just wants a couple bikes that can do it all. I basically just ride the Magnus all year. I have a 29r plus wheelset for summer. I also have a Kona sutra as my party bike in the summer. Those two bikes give me everything I need out of bikes. The Magnus does kick ass. And is probably the closest to the "one bike to rule them all" I've ever had. I would be plenty happy if it was my only bike

Kevin Breitenbach
Moots Forager – Made in the USA 27.5 Ti Fat Bike
Moots says that they're only going to make fifty Foragers but maybe that's just what they have planned for this Winter. If there's a demand, I bet they would make more. They took pre-orders till June for the first set of bikes to be ready to deliver by later in November. With a build kit that features names like Enve and HED, the Moots Forager should be on the radar for riders that demand the best of the best. I had a Moots 29r back in the 2000's and I've toured the factory. They make incredibly beautiful bicycles and test them in a cycling paradise called Steamboat Springs, Colorado.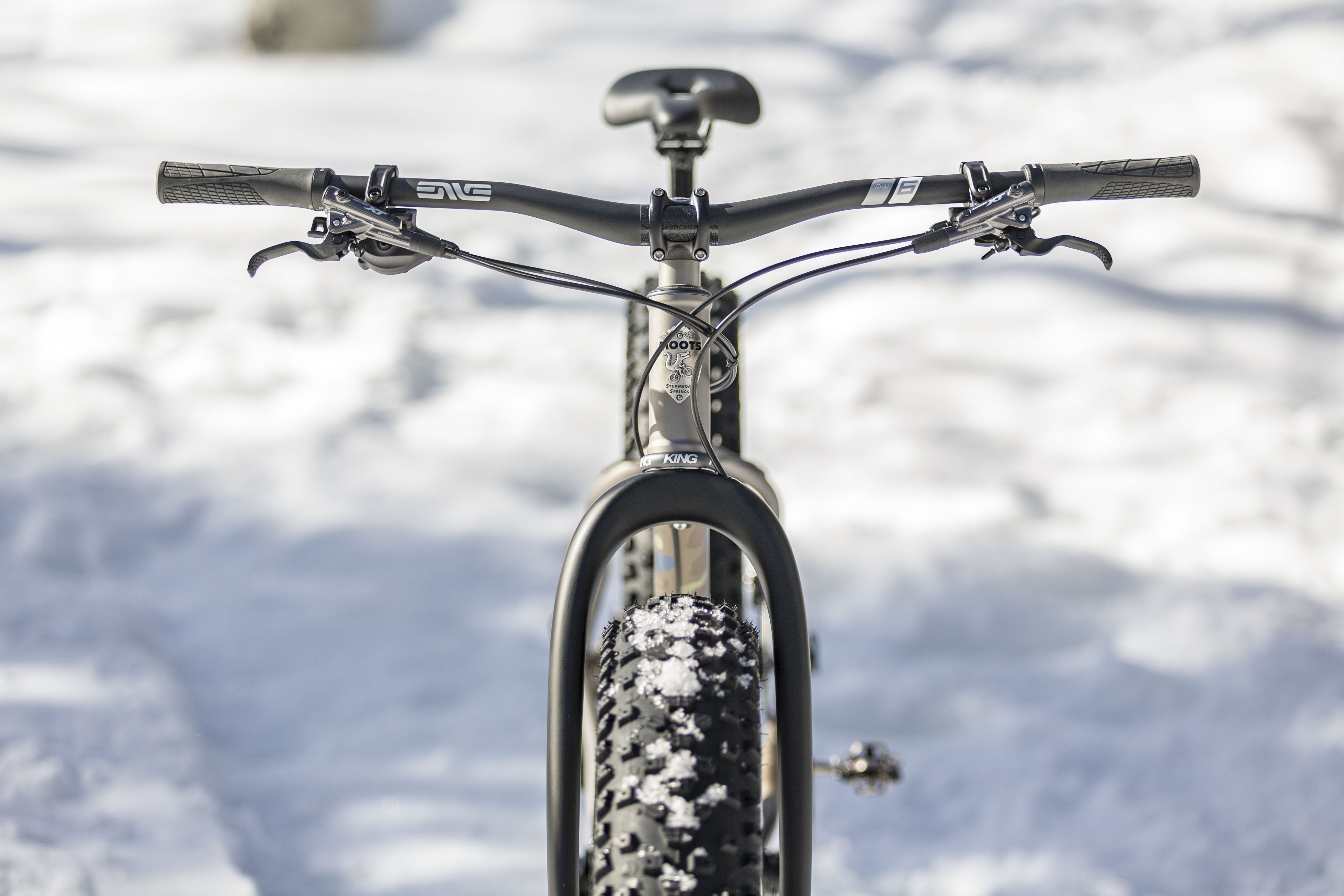 I couldn't talk Moots into building us a bike to test, so we've little to report as far as how the bike rides. The geometry of the Forager has moved slightly towards the more progressive side, but not as much as the Corvus that made the list. Moots designed the new Forrager to run 27.5 wheels using their twenty years of experience manufacturing fat bikes. I asked the folks at Moots if they could provide us some tasting notes from anyone that had gotten to ride the new Forrager and they sent us this.
Rider feedback thus far vs past builds: "The front end was definitely more planted and tracked straighter and better in soft/loose snow." "The slacker head angle really made a difference between the Forager and older models." A good move in the handling department.

Eric Hindes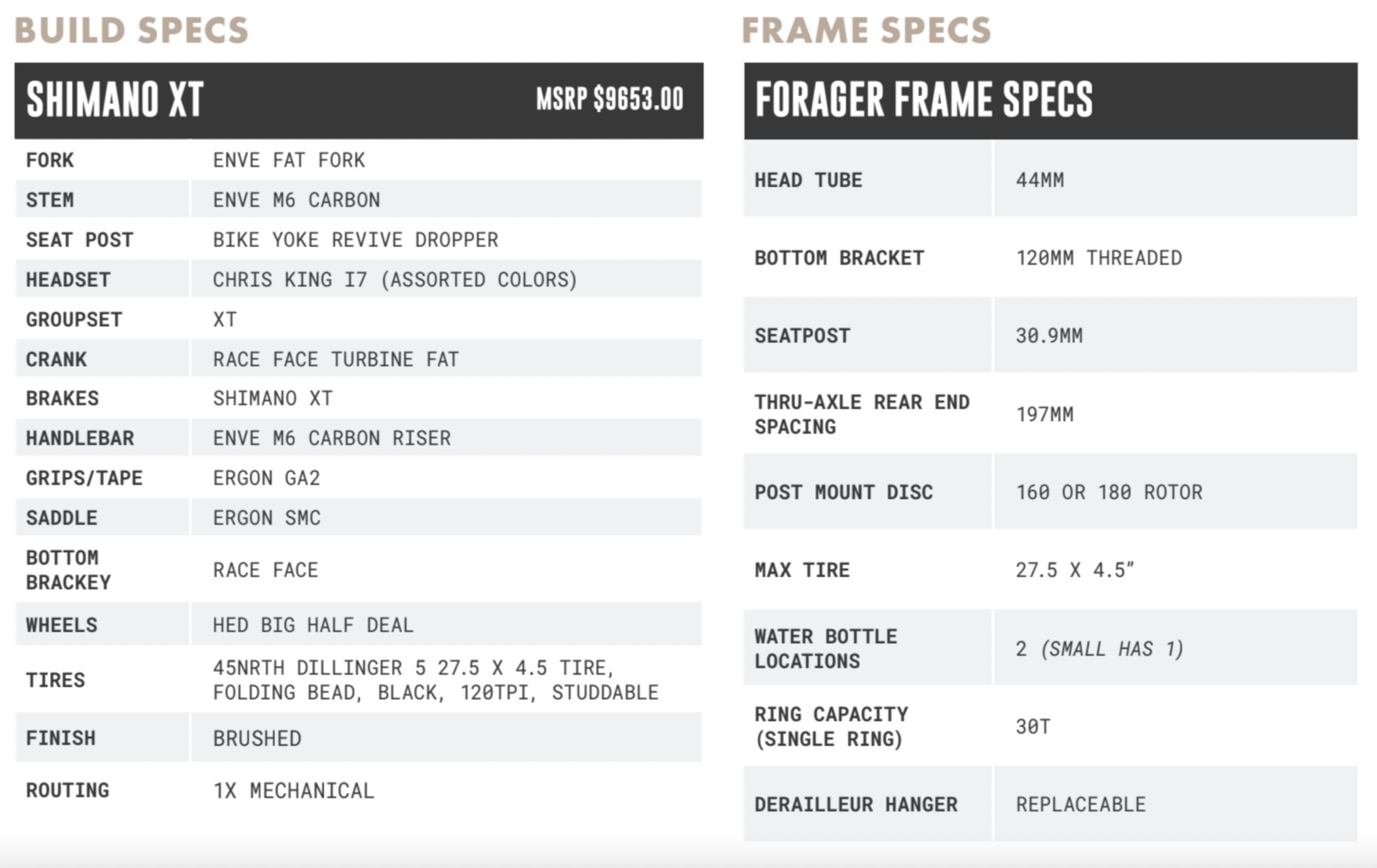 Why Cycles has updated their top-rated Big Iron fat bike around (you guessed it) 27.5 fat bike wheels. I've had the privilege of riding a Big Iron as recently as this spring. I rode Dirty's Big Iron at Sea Otter and I spent some quality time riding a Big Iron back in 2018 when Enve Components introduced their fat bike wheels and chipped fork. These guys are the up-and-coming rock stars of the segment. We haven't ridden the Big Iron V2. All of my ride experience took place on the original sauce, but 'on paper' The numbers on the V2 look very close to a Beargrease. I know lots of fat bikers that love their Beargrease.
The big Iron checks off all of the boxes with huge tire clearance and a slight bend in the top tube for extra standover in deep snow. The Enve Build Kit is an exquisite example of what's possible in the fat bike game. If you'd like to read our review of the original Why Big Iron you can take a look, but the authors of that review bought the bikes that they tested after the article was published. That's sort of the ultimate compliment to any product.
Are you still wearing socks?
So there you have it. Four Ti Fat Bikes that should knock your socks off! You may have noticed that we didn't list any prices in the article. We did put a link in each sub-heading to the website for each bike. That's where you can look for all of that data and more. Of course, there are also a handful of custom builders that'll build the Ti Fat Bike of your dreams but that's a story for another day.